Product Detail
Product Tags
D Series Diesel Pile Hammer
The hammers feature more power and higher obtainable energy, higher fuel efficient and less maintenance requirements, less malfunction, durability. Double fuel pump system, offshore leads and suspended rope leaders, provides professional solutions for various jobsite conditions.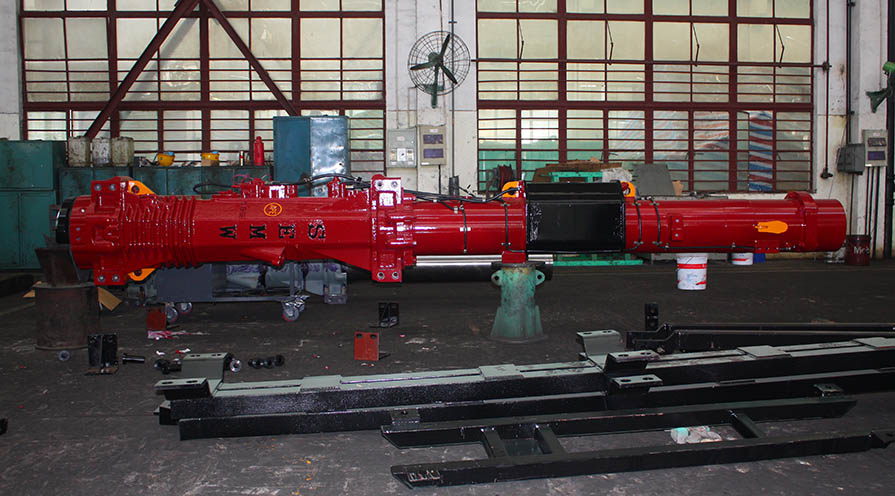 Product Model: D8
Specifications
Specifications

Type

D80-22

1:2

Impact weight(piston)

kg

800

Energy per blow

J

≤23940

Number of blows

1/min

≥38

Force of explosion pressure on plie max

KN

505

(The data mentioned refers to average values mainly valid concrete piles. Depending on the soil conditions deviations are possible.)

kg

2500

Permissible rope diameter for deflector sheave of tripping device max.

mm

Φ20

Consumption

Diesel oil

l/h

5.5

Lubricant

l/h

1

Capacity for vertical pilling Diesel oil tank

l

20

Capacity of lubricant oil tank

l

6

Ether tank

l

1

Weights

Diesel pile hammer approx.

kg

1950

Tripping device approx.

kg

100

Transport bracket approx.

kg

11

Transport guard approx.

kg

15

Tool box approx.

kg

75

Dimensions

Length of Diesel pile hammer (a/a1)

mm

4954

Outer diameter of impact block (b)

mm

350

Over all dimensions measured over fastening screws of the guide jaws (c)

mm

560

Width of Diesel pile hammer (d)

mm

410

Width for connection of guide jaws (e)

mm

320

Centre of Diesel pile hammer up to pump guard(f)

mm

315

Centre of Diesel pile hammer up to center of threaded hole for fastening screws of the guide jaws(g)

mm

245

Depth of Diesel pile hammer (h)

mm

590

Minimum (standard) distance from center of Diesel pile hammer up to the center lead (H)

mm

 

Guiding center spacing

mm

330(×Φ70)

Application
D8 DIESEL PILE HAMMERS: DRIVE THE WORLD
More e¬fficient –More power & Higher obtainable energy
More economical –Higher fuel e¬fficient & Less maintenance requirements
More convenient – Easy maintenance
OCTAGON DIESEL PILE HAMMERS—CUSTOMIZED & PROFESSIONAL DESIGN
SEMW independently developed custom-made Octagon shaped Diesel Hammers, specialized for the American market. The hammers are designed according to our customer's requirement; and designed for the construction process used in the United States. Octagon Diesel Hammers are well received in North America, which demonstrates our ability to influence and expands the ever-growing SEMW product line
around the world.
Service
1. PRE-SALE SUPPORT
Our professional team offers free consulting services to help ¬find the best solutions for your next job.
2. SEMW SERVICE TEAM
Our service team has a wide range of professional experience on any size project, large or small.
We have offices in Tian jin, Guang zhou, Hang zhou and Jiangsu. In these cities, our service team and service vehicles are available at any time. We can be at your jobsite within 4hours with the spare parts and service you need.
In all other cities in China, our service team can be at your jobsite within 24hours.
3. CARING FOR CUSTOMERS
We have a professional team to serve our customers with advanced data base CRM system with ¬les of all our customers. Regular call backs are made to verify products function well and meet your needs.
4. CUSTOMERS' FEEDBACK
Supervisor telephone number: 0086-021-66308831. We will assist the after-sale service and solve any problems with the sense of urgency. Your requests will be well received.
5. MAINTENANCE AND REPAIRING
We have sufficient supplies for spare parts and common wear items, to make sure you have access to quick maintenance and repair.
THE GLOBAL MARKETING NETWORK
Diesel Hammers are the key product of SEMW. They have achieved a good reputation domestically and overseas. SEMW diesel hammers are exported in a large quantity to Europe, Russia, Southeast Asia, North America, South America, and Africa.
---
Next:
D19 Diesel Pile Hammer
---